Portfolio: David Bracher – The Way We Were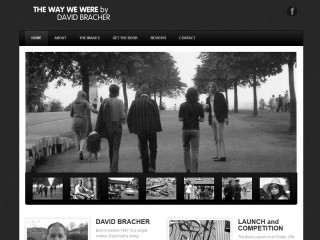 New Chief Sitting Still here. Aka Lucie Dickens
You may have heard of me or even just seen my name in the recent newsletter. I have been working behind the scenes at Godjira for some time, well since the beginning and rarely step forward, but as business grows so here I are am pushed to the fore.
I rarely have the chance to write about the work we have been doing but would like to share with you my author. Well as you can appreciate he is not really "mine" but he was my first.
David Bracher came to me through a mutual friend. He had produced his book: The Way We Were. (Not to be confused with the 1973 film starring Barbra Streisand). This is a Photographic book of student life a Goldsmiths' College in the late 1960's.
He wanted a way to promote and sell the book. Unsure of where to start and knowing he needed a website and other marketing goodies he came to Godjira.
The Book, without even opening, had an immediate impact on me. Hair on the back of the neck stuff.
Simple black and white, or white and black depending on your perspective. A coffee table book if you will. Hard backed, white front cover with monochrome picture and black text. The back being black, as David said" It's a coffee table book so you should not worry about putting your cup on it, so we made the back black to hide the rings."
We sat down and had a chat. I knew the site had to be simple yet have the same impact on the viewer as the book itself had had on me. Its a photographic book, so we had to use the images with out giving too much away, as after all the purpose is to sell the book. There where lots of concerns about copyright and watermarking images, which we address. Also we made it easy to buy the book as they wanted to distribute it themselves.
Black and White, White and Black. The site had to be monochrome. Simple, well so I thought at the start, but have you had to design a monochrome website that has the same impact as a tangible object? Something classy and not overly simple. We took some time, looked at the requirement and Eureka! 10.30pm 3 days later, the design was born. We needed to showcase some key images and create a call to action. We also created a Facebook page which we would love you to become a fan of.
We like authors and we especially like David Bracher. If you are an author and if you can find us maybe you can hire the Godjira Team.